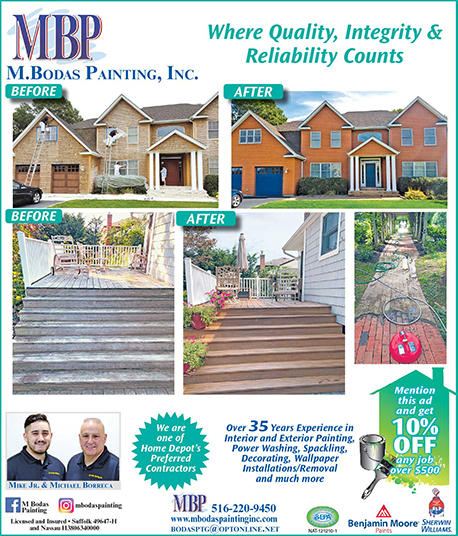 Interior & Exterior Painting Contractor
M. Bodas Painting, Inc. has provided professional painting services and more to commercial and residential properties since 1988. Whether your home or business needs interior or exterior work, we promise to complete your project perfectly while offering reliable and friendly service throughout its timeline.
While we are a trustworthy Long Island painting contractor serving both Nassau and Suffolk counties. We have proudly served countless satisfied clients throughout these communities, from homeowners to architects, contractors, project managers, property managers, and many more. Ask for a list of references to get a fuller picture about the quality of work we can provide for your property!
Read more
Working with M. Bodas Painting was an absolute pleasure! Mike was extremely communicative, clear and precise in his estimates and throughout the whole project. The crew that was on our job was always on time, clean and respectful of our property. Our decks, shed and patio looked phenomenal with great attention to detail. Would highly recommend!

Michael Borreca, of M. Bodas Painting, Inc., has performed on numerous projects for Fortunato Sons, Inc. in a diligent manner that is nothing short of perfection. His staff is courteous, reliable and professional. For this reason I didn't hesitate to request his services on my OWN home and also that of my daughter's Beauty Salon. At times I have presented some very challenging requests and to my delight everything was accomplished to my satisfaction and on time. The words "it can't be done: are not in Michael's vocabulary. I would highly recommend his work for any project that Michael feels he could accomplish.

Attention to Detail, Mike and his crew power washed and painted our deck and pergola. Their attention to detail really paid off. The deck looks great.

Always calls you back, great communication. Never leaves until you are happy, great quality.

I have used M. Bodas Painting, Inc. for my home and business. Top-of-the-line quality work paying attention to detail!! Their work is clean and neat. If you want the job done right, I highly recommend them!

They did an outstanding job in my home. They are professional through and through. I would use them again and definitely would recommend them to anyone.
VIEW OUR BEFORE & AFTER PHOTOS
Our Promise to our customers is as follows:
We will never rush a residential or commercial painting job.
We will use the top quality paint and tools to complete your contract to your satisfaction.
We will never leave any tools, stains or materials behind that you must clean up.
We will always stand behind our work and take pride in your painting service
Fully Licensed & Insured
M. Bodas Painting, Inc. is a fully licensed and insured operation, carrying worker's compensation insurance and comprehensive general liability insurance for the peace of mind of clients and employees alike. We take the safety of every job seriously and abide by all New York State regulations in place to keep workers safe and .healthy.
Our insurance coverage satisfies and exceeds requirements set in place by regional condo/co-op boards, apartment houses, property managers and commercial properties. Contact us today to learn more about the measures we take to keep project sites up to code. We appreciate your consideration and hope to hear from you soon.
Read more
Winner of our 1st Facebook Contest
$25 Amazon E gift certificate Just for liking and sharing our photo.
Thank you Mary M.